MEDTRAK VNG Hardware & Software

INTERPRA Data Interpretation

REHABILITATION Equipment & Training
Data Interpretation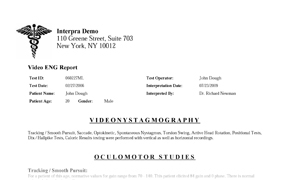 INTERPRA, INC.
MANAGED BY
S & S HEALTH PRODUCTS, INC.
CAN PROVIDE YOU WITH "DRAFT" OR "EXPERT REVIEW" FULL NARRATIVE REPORTS FOR YOUR VNG TEST.
Interpra was designed to assist physicians in organizing their VNG data as well as assisting physicians with creating a clear narrative report.
Interpra provides users of VNG equipment manufactured by MedTrak VNG, Inc. with interpretation narrative drafts and fully reviewed finalized narrative reports for their VNG tests.
Interpra customers receive an online account on www.myvng.com and a free flash drive which enables them to send all of their VNG tests and raw data to Interpra electronically.
Interpra's computer system then coordinates the VNG test information into a narrative form providing the practitioner with normative values and potential impressions and recommendations.
Interpra's Matrix was created by medical experts in VNG interpretation and rely on algorithms to create possible impressions and recommendations which can be accepted or changed by the medical practitioner to form a final full narrative report.
The practitioner can also choose to submit the tests through Interpra's "Expert Review" system. The VNG test results are forwarded to a board certified Neurologist who will review, finalize and sign the full final VNG narrative report. This report can also be obtained through www.myvng.com.
The practitioner can utilize the Auto-Draft-Report system to obtain a full draft narrative report within 10 minutes enabling the patient to remain in the office while the physician makes their diagnosis.
All individualized "online accounts" utilize the highest security measures, password protected and HIPAA compliant systems to upload, download and print their narrative reports.
RELIABILITY & EXCELLENCE
Data Interpretation
Provided by Interpra
Managed by S & S Health Products, Inc.

Our Main Business Products and Services Overview